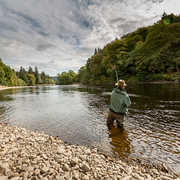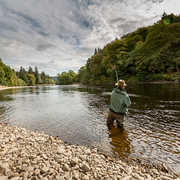 Salmon Fishing in Scotland
Salmon Fishing in Scotland at Scotland (SCT) is a Fishing trip that starts on January until October.We are fishing 

Trout, Salmon, Brown Trout and Atlantic Salmon

.

Costs from

 $470.00

 to

 $4,000.00

.
Description
Try your luck for Scotland's most prized fish, the regal Atlantic Salmon. Steeped in mystery, tradition and history this incredible fish is part of our heritage.
During most weeks of the season there are salmon between 20 and 30lbs caught from Scottish rivers with bigger specimens most months. If you can catch a fresh run Scottish salmon on the fly on our Salmon Fishing package not only will you have a mind blowing experience, but also the bragging rights for years to come!
The best times of year
Mid January for lots of fish (but not many fresh run)
May/June for the best quality fresh run fish
July/August for the grilse run (smaller salmon but sometimes lots of them)
Sept/October for big salmon and a mix of fresh run and less fresh fish (sometimes in good numbers)
We offer salmon trips in Perthshire on the River Tay and its tributaries and also in Argyll on the small west coast rivers.
Check out a video on vimeo of a rather productive October session in Argyll (url removed)
Pricing Details
£350 for one angler, £300 each for 2, £275 per person for 3 anglers. ​Included in the price is the permit to fish, transport from your accommodation to the fishing venue, attentive guidance, casting instruction (as required), photos of your trip, and all the necessary fishing equipment including waders (please let me know your shoe size). All that you need to bring is warm, waterproof clothing and a hat or cap.
The price given in USD above is as per the conversion rate in December 2017. Conversion rates change so go by my prices in GBP £ .
Terms & Conditions
BOOKINGS
Once a trip has been agreed it will be provisionally reserved in your name and an invoice will be emailed. Payment should be sent to Fishinguide within 14 days to confirm the booking.

The invoice must be settled 6 weeks prior to arrival.

When a booking is made less than 12 weeks prior to the commencement of the intended tenancy the total cost of the event will be due within 14 days of the booking.

Failure to comply with items 1, 2 & 3 could lead to cancellation of the booking and Fishinguide reserves the right to re-let without further notice.

When a booking is made less than 8 weeks prior to the intended tenancy the total rental will be due immediately on receipt of invoice.

Payments may be made by any of the following:
a. Directly from bank to bank with funds being sent to – Duncan Pepper (bank details in each invoice) b. By cheque (made out to Duncan Pepper) from a UK bank c. By bankers draft d. By credit card (subject to a 2% surcharge) e. Via the (url removed) website using a credit card with Paypal or WorldPay
Every care is taken when compiling brochure, webiste & promotional material to ensure the information is correct. However we are unable to accept liability when circumstances beyond our control result in the facilities described being altered or withdrawn.

Neither Fishinguide nor any person assisting it shall be liable for the consequences of delays or restrictions from adverse weather, obstructions, repairs or damage to navigational works, flooding, shortage of water, industrial action, fuel-rationing, shortages of or non-availability of fuel or any other cause and reserve the right to restrict the activity if unusual or hazardous conditions prevail. Neither Fishinguide nor any person or company assisting or collaborating with it shall be liable for death, personal injury or illness. However nothing in this agreement is meant to exclude liability for death or personal injury due to negligence on the part of Fishinguide.
CANCELLATION
Cancellation by you – In the event of cancellation by you, for whatever reason, the following scale of charges is payable:– Prior to 120 days 20% of total cost. 119-7 days 50% of total cost. 7-0 days 100% of total cost. This covers administration and pre-paid permits and inconvenience to staff.

Re-sales In the event of cancellation. Fishinguide will without obligation endeavour to resell the booking. In the event of a full or partial resale the following scale of charges will apply: – Take a credit to be used within 12 months of the date of the re-sale. If the credit is not used within that period it expires. If you elect to take a refund instead there will be an administration fee of £30 or 20% of the value of the resale whichever is the greater.

Gift Vouchers
These are non– transferable.
ancellation of Gift Vouchers. The original purchaser may cancel a voucher for a full refund within 14 days of purchase. 4. Cancellation of trip by Fishinguide. Fishinguide reserves the right to cancel your booking in which case we will offer an alternative booking of equivalent standard or a full refund.
CONDITIONS
We recommend that all corporate parties request our risk assessment form which we will complete for you
2.If a booking can be re-let, refunds less an administration fee will be made. It is often possible to re-let sport at short notice at a reduced rate, in such cases the shortfall will be deducted and the balance returned
We recommend that clients insure against cancellation since if the sport is not re-let all payments will be forfeited.
All sportsmen must have third party insurance against sporting accidents.

All instructions and decisions given by stalkers, keepers and gillies will be final and must be followed. Failure to comply with such instructions or decisions may result in the cancellation of the rest of the tenancy. In the event of cancellation under the terms of this clause, there will be no right to a refund or compensation.

Where appropriate all sportsmen will be required to comply with instructions to clean tackle which has been used on a fishery where there is a risk of contamination by the Gyrodactylus Salaris parasite and sign the declaration supplied by Fishinguide.

Fishinguide reserves the right to cancel your booking in which case we will offer an alternative booking of equivalent standard or a full refund. You have the right to cancel up to seven days prior to your trip. If you do cancel before 7 days prior to your trip you will have your payment returned (following the scale above).
Breakdown
Glasgow International Airport (GGW)
Trout, Salmon, Brown Trout, Atlantic Salmon
Accommodate Disabled Clients?