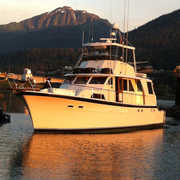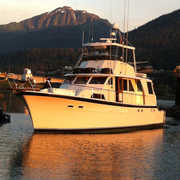 Multi-Day Fishing and Sight-Seeing Charters aboard a Luxury Yacht
Multi-Day Fishing and Sight-Seeing Charters aboard a Luxury Yacht at Juneau, Alaska (AK) is a Fishing trip that starts on June until September.We are fishing 

Salmon, Rockfish, Flounder, Chinook Salmon, Chum Salmon, Coho Salmon, Pink Salmon and Pacific Halibut

.
Description
We offer personalized fishing vacations in the natural paradise of Southeast Alaska, a premier fishing destination with abundant salmon, rockfish, halibut and shell fish. Our 58' Hatteras Motor Yacht allows you to travel in luxury with private sleeping quarters and all the comforts of home while you experience incredible scenery and view Alaskan wildlife. You will experience Alaska up close and personal, and have the adventure of a lifetime while doing so!!
Pricing Details
Price: $550 per person per day for 3 or more guests; $700 per person per day for 2 guests. Sleeping quarters are ideal for 4 guests, but accommodations may be made for larger groups.
We will customize your trip to fit your schedule and vacation goals, and welcome 3 to 7 day trips. Depending on the length of your trip, we will depart from either Auke Bay or downtown Juneau for a cruise down the Inside Passage and we will fish in the most likely places to catch fish at the time of your charter - which might be around Admiralty Island, Chicagof Island, Excursion Inlet and/or the Outer Coast beyond Elfin Cove. Breakfast, lunch, dinner, snacks, soft drinks and bottled water are provided each day.
Sport Fishing: Refer to the Alaska Department of Fish & Game for yearly catch regulations. In 2017 non-residents can keep 1 King salmon, 6 Silver salmon and 6 Pink salmon each day. The limits on rock fish vary on the type of fish - including one Yellow Eye per year. We will have a 50 lb fish box on board for each guest so we can fillet, vacuum pack and freeze your catch for your departure home. We also have a charter halibut permit, so guests are allowed to fish for and keep these large flat fish (but we do not keep the really big halibut as these are the brood stock that replenish the fisheries). We provide all fishing gear, tackle and bait. Of course, some of the fresh fish is prepared in a variety of delicious ways for your meals on board.
Airport Transportation: Shuttle pickup and drop off can be arranged through your hotel. Arrangements may be made for Encounter Charters crew to pick up at hotels if necessary.
Fishing Licenses: Fishing licenses can be purchased online at the Alaska Department of Fish and Game website. You may purchase non-resident sport fishing licenses for 1, 3, 7 or 14 days; you will want to also purchase a King salmon stamp.
Alcohol: Guests are encouraged to purchase their beverages of choice prior to arriving at the boat as we do not provide alcoholic beverages.
Personal Expenses: Prices do not include round-trip airfare, hotel/ground expenses, fishing licenses, on-shore storage or shipment of your fish boxes, and gratuities.
Terms & Conditions
We require a 50% deposit to hold your reservation upon confirmation of your trip. The remainder is due 30 days prior to departure. To make a reservation, submit your request online or call or email us; we will contact you to confirm and arrange payment. We prefer checks or cash. We can take credit card payments, but there is a 3.5% credit card charge to cover bank fees.
Breakdown
Juneau International Airport (JNU)
Salmon, Rockfish, Flounder, Chinook Salmon, Chum Salmon, Coho Salmon, Pink Salmon, Pacific Halibut
Accommodate Disabled Clients?